The Reach of the Assyrian and Babylonian Empires: Case studies in Eastern and Western Peripheries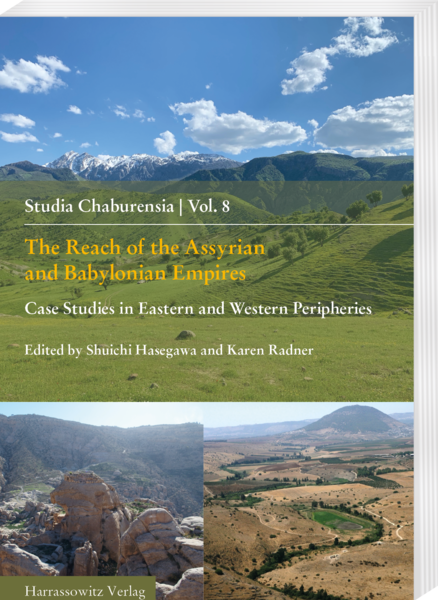 | | |
| --- | --- |
| editor(s): | Hasegawa, Shuichi / Radner, Karen |
| series: | |
| volume: | 8 |
| pages/dimensions: | VIII, 202 pages, 63 Abb., 3 Tabellen |
| language: | English |
| binding: | Book (Paperback) |
| dimensions: | 17.00 × 24.00 cm |
| weight: | 435g |
| publishing date: | 07.10.2020 |
| prices: | 48,00 Eur[D] / 49,40 Eur[A] |
| ISBN: | 978-3-447-11477-6 |
| DOI: | 10.13173/9783347114776 |

This volume deals with the Assyrian and the Babylonian Empires and seeks to provide new data for the ways that enabled these states to govern efficaciously their vast territories and diverse populations across the ancient Middle East. With both states exerting and distributing power and authority from centre to periphery, the channels through which these were asserted are understood to be of key concern in order to assess the imperial structures. Elucidating the mechanisms of control, especially in view of the always fragile relations between the state centre and remote peripheries, has long been a major subject in the study on ancient empires.
The volume edited by Shuichi Hasegawa and Karen Radner is specifically concerned with tracing the Assyrian and Babylonian Empires' reach into and their hold over their more peripheral regions. The papers collected in this volume cover the period from the 9th to the 6th century BCE and draw on the rich archaeological and textual data that has come to light in old and new excavations and survey projects in Jordan, Iran, Iraq, Israel, Lebanon, Saudi Arabia, Syria and Turkey, and in particular at the Dinka Settlement Complex (Gird-i Bazar and Qalat-i Dinka), the cemetery discovered at Sanandaj, Tel Rekhesh, Tell Ali al-Hajj, Tell Mastuma and Yasin Tepe.